Advantages:
– Almost neutral sound signature
– Excellent backup battery
– Comfortable to wear
– Multipoint support
– Can be used as wired headphones with an Aux cable
Disadvantages:
– Overpriced in India
– No ANC, intrusion protection, companion app
– No support for high-end codecs
– Plastic-like construction, non-foldable design
– Poor passive noise isolation
Price: Rs 13,499
Evaluation: 3.3/5
A large percentage of portable audio products are understandably aimed at the masses and therefore cater to their taste in sound. In simpler terms, most headphones offer boosted bass for that extra punch. Then we have some that offer more balanced sound and features like active noise cancellation (ANC). And finally we have studio monitors that strive to reproduce the sound as it is without boosting any frequencies.
The last category is more niche, and a large part of the target group prefers wired headphones. The Audio-Technica ATH-M20x has been a hugely popular pair of headphones for those looking for studio quality sound at an affordable price. in fact it still is. The company has now launched a Bluetooth version of the same ATH-M20xBT which hopes to do the same without wires. Let's see if it succeeds and if it's worth the asking price.
Audio-Technica ATH-M20xBT headphones – workmanship, design, comfort: 6/10
There's nothing wrong with the aesthetics of the ATH-M20xBT, with a signature Audio-Technica design language and smooth black matte finish. But I wasn't happy with its build quality, which feels distinctly plasticky, and even more so given its pricing. The hard plastic shells appear to crack after a drop or two, but we're not sure since we didn't do a drop test. Another issue was the durability of the thin wire connecting the two earcups through the headband. The weight is perfectly fine at 216 grams.
The padded ear cups sit snugly over the ears with just the right amount of pressure. The not-too-tight fit makes sense as these headphones aren't intended for use during workouts. And that's not just because of the sound profile here, but there's no IP rating for ingress protection and you don't want to risk sweat damaging the product. The headband padding is just about okay. While wearing comfort is good, the M20xBT's passive noise isolation is quite poor. You can hear almost everything around you even after wearing the headphones.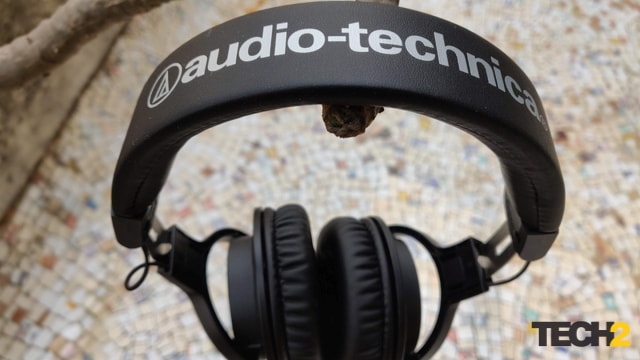 The ear cups do not rotate or fold much, which makes the product difficult to carry as it takes up a lot of pocket space. A carrying bag is missing here, which the company should not have been stingy with. The left earcup houses all the buttons and ports. A 3.5mm aux-in and a USB-C port can be found there alongside a status LED and playback controls. A USB charging cable and an Aux cable are included.
Audio-Technica ATH-M20xBT Headphones – Key Features: 5/10
Although the price raises your expectations, the ATH-M20xBT is quite light in this department. Essentially, it's a simple pair of Bluetooth 5.0 wireless headphones that only support SBC and AAC codecs. There is also no ANC. We understand the overall focus is on providing studio quality sound and a robust battery backup, but a better codec like aptX or LDAC would certainly have helped with the former.
You don't get a companion app to change the sound profile or update the firmware. Each earcup of these closed-back headphones houses a 40mm driver. The claimed frequency response is between 5Hz and 32KHz, which is impressive. Another standout feature of this product is its battery backup, with the company promising up to 60 hours of playtime; a claim we shall shortly examine.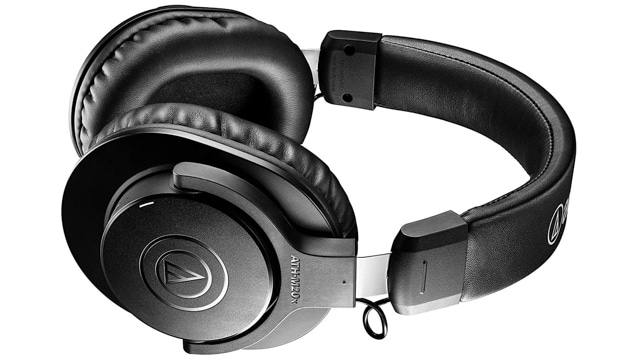 Like most wireless headphones, this product can also be used as a wired headphone with the included or any aux cable. There are three physical buttons on the left earcup, including the volume rockers and a play/pause button that doubles as a power button as well as a Bluetooth pairing button. You can long press the volume up and down buttons to skip to the next or previous track. This headphone is straightforward to use but overly basic in terms of features.
Audio-Technica ATH-M20xBT Headphones – Performance: 7/10
The wireless range of these headphones is quite good up to the advertised 10 meter mark with a clear view; no complaints there. Pairing this device with a phone or tablet is also a simple process. Coming to the sound quality: The Audio-Technica ATH-M20xBT delivers an almost neutral sound output. This means that no specific frequency range is boosted and you actually get almost studio quality.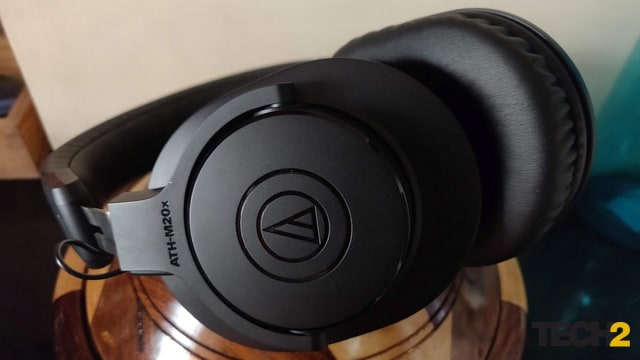 Before you jump out of your seat in excitement, here's a word of caution. Just because your self-proclaimed audiophile friend claims neutral sound is the best thing on the planet doesn't necessarily mean you'll enjoy it. You don't get a prominent bass here, as we're used to, and some may find the sound a little too bright for their liking. So, first assess what's on offer here, and then consider what you're going to spend on it.
Now judging it for what it is, the bass is minimal while still packing a decent punch. As a result, the mid-range frequencies get a chance to shine and shine at what they do. The vocals are crisp and most instrumental sounds are clearly audible with more than decent separation. The highs have plenty of shine, but could have been better tempered. The S-Sounds tend to sound a bit harsh, and you don't have the extra bass here to offset it. Detail in the audio is good, but the soundstage is average at best. For normal volume, the volume needs to be increased to 80%.
The ATH-M20xBT is a good option for listening to vocal or instrument-heavy tracks, be it jazz or classical. If you're more into rock, EDM, or Bollywood, they won't be as comfortable with these headphones. It's also not bad for watching web series and movies. Latency is low enough and there was no noticeable lag between video and audio when watching content from different OTT platforms. There's ample clarity in dialogue, although the punch in action sequences is a notch or two below ideal. But let's not forget that these are intended to be studio monitors and they serve that purpose well.
Audio-Technica ATH-M20xBT Headphones – Call quality: 6.5/10
Most on-the-ear headphones have call quality issues. With the M20xBT it's pretty decent in quieter areas. Indoors, the people on either end of the call can be heard with reasonable clarity. In noisy environments, the mic tends to pick up some ambient noise as well as wind noise, and your voice will sound a bit distant. The interlocutor complained about it. So when you're outdoors, you might want to answer the call right on your phone.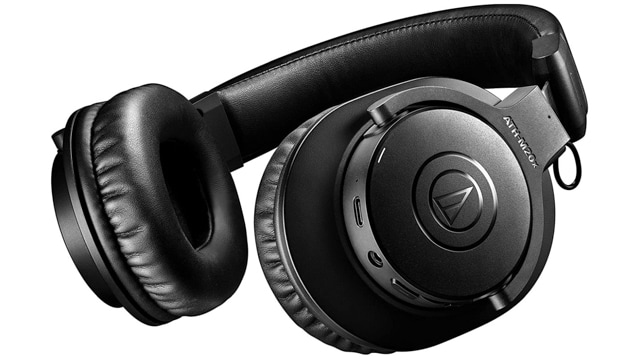 Audio-Technica ATH-M20xBT Headphones – Battery life: 9/10
The battery life of the ATH-M20xBT is probably its best attribute in my opinion. The company claims the battery can last up to 60 hours under test conditions, and the results weren't bad for us. With about 3 hours of daily audio playback at 80% volume, the battery lasted a full two weeks; that means 45 hours of battery backup. During the test I couldn't use it for a week, you have to take that into account.
That underscores the fact that the standby time is also impressive. So if your usage is similar to mine, you might only need to charge these headphones twice a month, which is great. These headphones take around four hours to fully charge with a standard USB-C charger. It also supports fast loading, but the numbers are modest. 10 minutes of charging can give you almost 3 hours of playtime, which is handy if not great.
Audio-Technica ATH-M20xBT headphones – price and verdict
The Audio-Technica ATH-M20xBT wireless headphones cost Rs 13,499 with a one-year warranty. Pricing is something I have the biggest problem with. This pair is popular abroad because it's affordable, priced under $79. Even with duties and taxes, it shouldn't come anywhere near its retail price in India. Around 8K it would have been a good option for those looking for near-neutral sounding wireless studio monitors. At 13.5K it's hard to recommend.
It's a niche category here, and a large chunk of the studio monitor demographic still prefers wired headphones. That price won't tempt them enough to switch. Also, the feature set is extremely limited to fetch this kind of price. Instead, the wired version Audio-Technica ATH-M20x would make more sense for almost a third of the retail price offered here and a corresponding adapter for the phone if it does not have a 3.5 mm headphone jack.
This article was previously published on Source link