Dying Light 2 was one of last year's insatiable AAA time sinks, designed to outlast any thought of a refund or trade-in. It has cost millions of players tens if not hundreds of hours. And while that time slipped down the drain easily enough, happily wasted and easily forgotten, it's now reappeared — like a fatberg clogging the sewers — in Spotify Wrapped presentations from the likes of Steam. Thank you Gaby Really, you shouldn't have done that.
As it turns out, I personally worked the equivalent of a work week and a half on Techland's over-ambitious zombie sequel. Being faced with such a tough figure in the cold dawn of the New Year prompts a little regret and reflection. What was the motivation? Why did I settle for a 6/10 with my review editor at Edge magazine and then go back to find out more?
I can't speak for other Dying Light 2 players who might have been looking for escape or just value for money. But I know I've been pursuing something very specific. A pinnacle reached a decade earlier by the Mirror's Edge time trials – those tight yet free-form gauntlets of rooftop vents, fire escapes and sudden drops that made the most of first-person parkour.
In Dying Light 2, as in Mirror's Edge, navigation is almost always a high-wire act, forcing you to think before you jump. But in the timed challenge mode, that cautious demeanor is balanced against a ticking clock. The toughest and most satisfying parkour trials in Dying Light 2 forced me to abandon the thoughtful approach and pursue sheer speed if I wanted any chance of getting the top score – using my trusty grappling hook to propel myself forward while I hoping memories of recent runs would make sense of the blurry terrain in the flyby.
However, these standout runs had to be teased out of the open-world morass of quasi-medieval Villedor. Dying Light 2's parkour challenges are quite numerous, but are revealed organically, one at a time, across the width of the city map – most of which is fenced off behind campaign progress. And even then, many won't be manageable until you've put in the hours with Techland's skill tree.
Wall running, slipping under objects, the emergency forward roll that saves you from the pancake after a long fall – these are all central parts of the first-person parkour moveset that dates back to Mirror's Edge. Without them, you will struggle to maintain crucial momentum. And yet they're all buried under character progression in Dying Light 2 and locked away until you gather the required XP. As for that grappling hook, forget about adding it to your tool belt until you're deep into hit-and-miss history.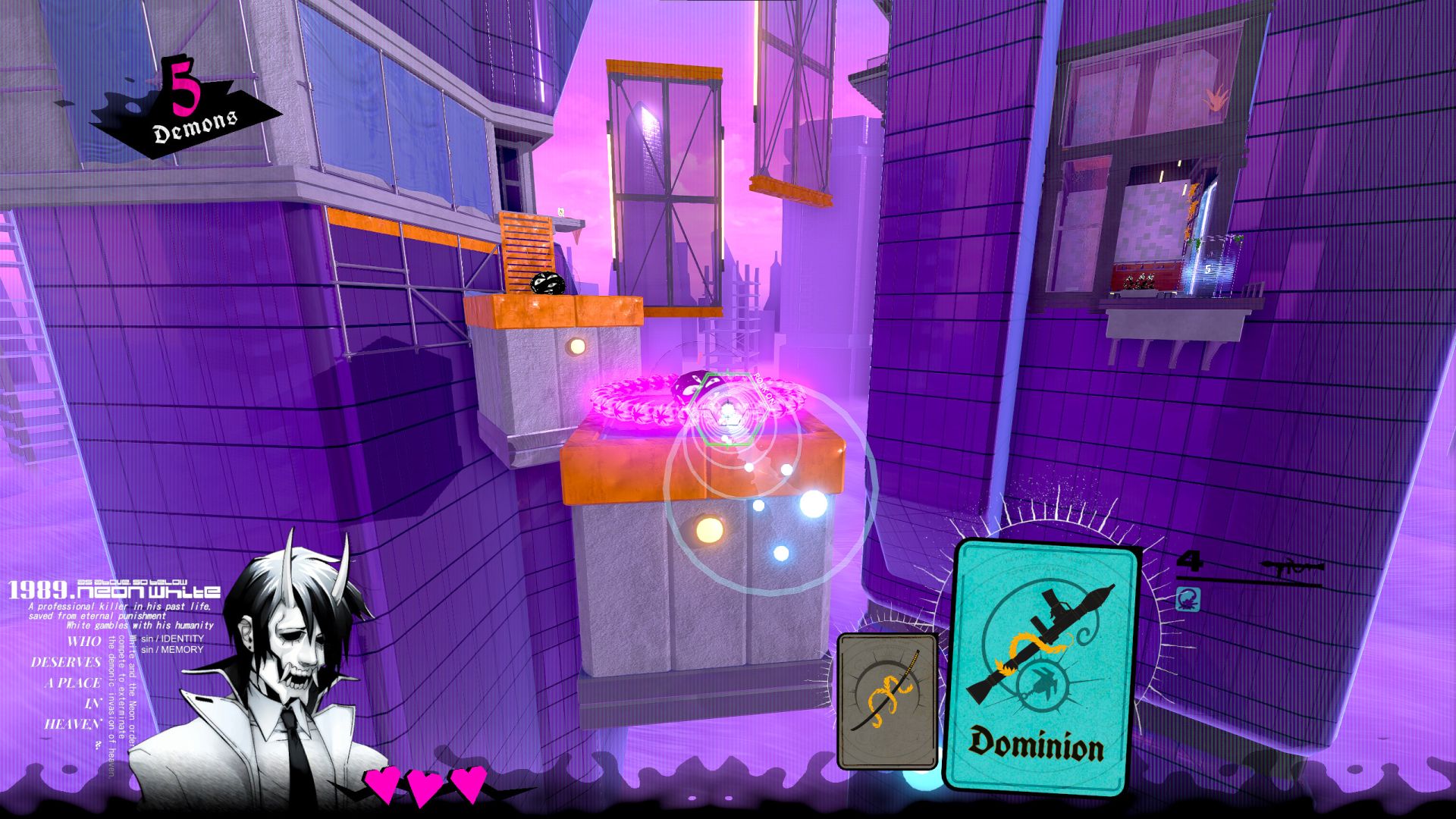 white hot
If Dying Light 2 carried me through Dying Light 2 on a faint, flickering hope of real parkour, then the summer release of Neon White was a blinding lightbulb. This is a game made up almost entirely of first-person movement challenges, all timed and meant to be replayed in leaderboard battles with your friends. I tell friends I was spurred on by the impressive performance of a former colleague I haven't seen in years and who probably has no idea I used his score as the high watermark. Anyway: cheers, Nick. I hope you are well.
At first glance, you wouldn't believe that Neon White has enough Mirror's Edge to hit just the right spot. Its abstracted and garish levels, made up of austere and textureless towers and viaducts, are more reminiscent of '90s shooters than GoPro footage of actual freerunners. And the parkour itself is closer to the efforts of the Minecraft community than DICE's model. Press 'w' and you'll move forward at a set speed, not gaining momentum unless momentarily propelled by bombs or running water. Hit the spacebar and you'll draw a floating arc through the air, but you won't see any flailing limbs in your peripheral vision — just white streaks that indicate you're traveling at high speed. There is no stamina bar, nor is there any way to interact with the ledges and walls in your path other than landing on or avoiding them.
All of this may seem like a step backwards for the parkour genre. Nevertheless, Neon White is not without function. It's focused. And its levels aren't empty – they're clean and easy to read, all the better for planning a laser-guided route. Their order leaves room for a tactical level provided by a hand of cards, each of which can be used in two ways, either to fire a projectile at an enemy or to punctuate your parkour in a specific way. A pistol is also a double jump. A rifle can be a horizontal bar. the usi? A ground pound that will have you falling like a tumbling elevator. When you've perfected a card, you've decided exactly how and when to play each card—and deployed them with split-second precision.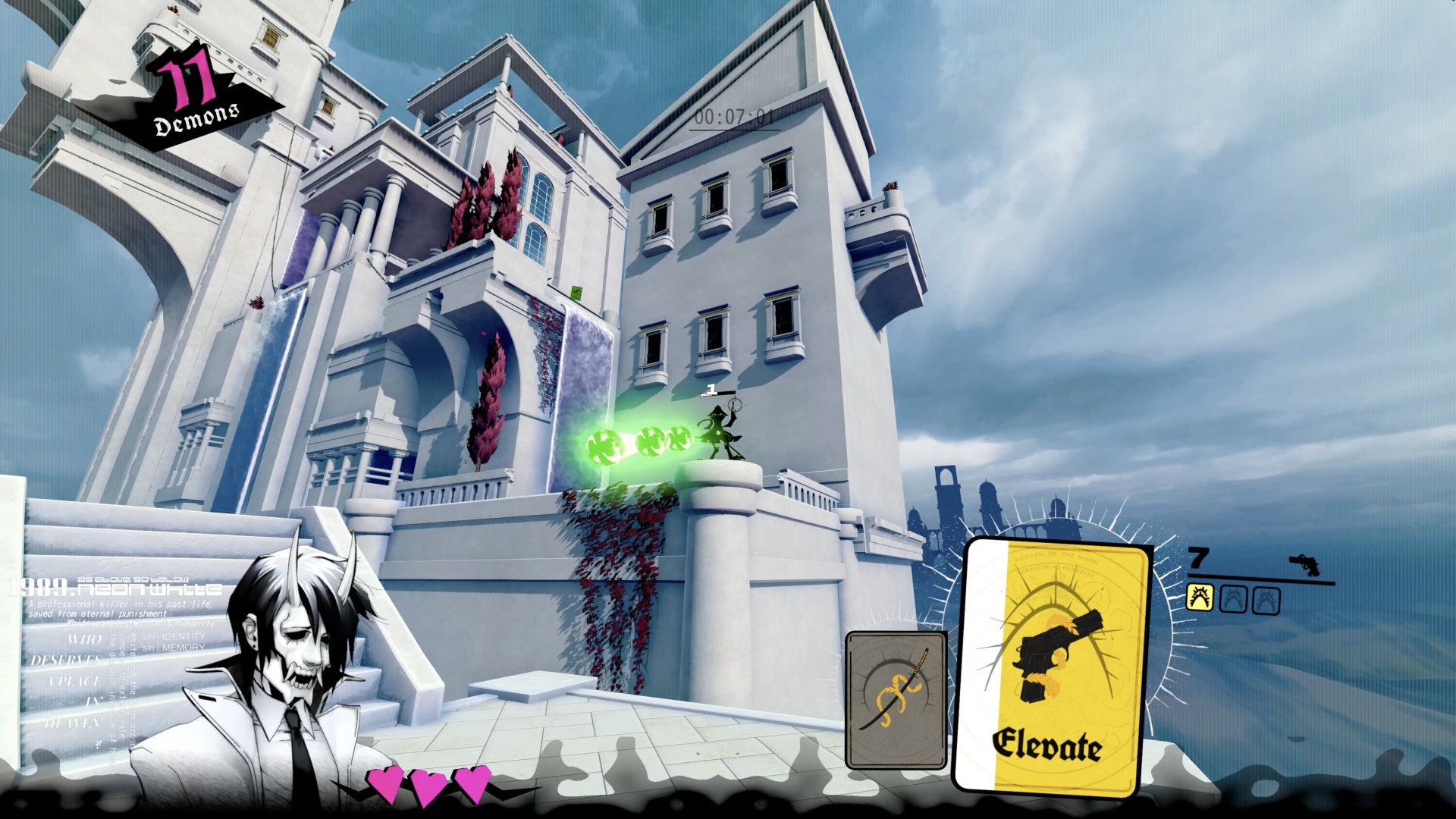 Map perfection is within reach not only of streamers and YouTubers who specialize in such things, but also of the average gamer – thanks to Neon White's tight scope and instant reset. It's a type of accelerated learning known from micro-challenge platformers like Celeste and Super Meat Boy. Because you're never more than a handful of seconds from your last wrong turn, you can correct your mistakes, experiment with routes, and repeat runs at breakneck speed. The curve from first contact to mastery can be drawn in just minutes, but it's no trick — this is real, skill-based problem solving you can be proud of.
What makes it all the more frustrating is having to remind myself of that every time Dying Light 2 booted me back into the open world instead of having me replay an obstacle course while it was still fresh in my mind. It's understandable, of course: the Techland sequel doesn't just do parkour, it also does exploration, looting, stealth, survival horror, first-person melee combat, and branching narrative. Each part of this equation must be weighed against the rest, and none can take precedence – as diversity of activity is a core tenet of the open-world formula. But looking back on the year, I'm grateful to Neon White for letting me skip for good. Even if it highlighted how many hours I've washed down the U-curve.
This article was previously published on Source link